With food in the fridge, diesel in the car, laundry on the line and the idiosyncrasies of the house partially mastered, we set off today to explore a bit.  First stop was the little nearby town of Ondara – we walked round looking for a the weekly market but couldn't find it!   Back to El Cid's just outside Benidoleig for a cup of coffee on the terrace while above us a bowls match was being played so lots of English voices.  A short ride then took us to Orba – on the way we located the garden centre where we'd been told we could buy logs and kindling for the burner in the living room. We then checked out our nearest supermarket Masymas – smaller and nicer than the big hypermarket Eroski where we shopped on Monday with quite a few UK brands.  Derek still keeps dragging me over to the wine section to amaze me with the cheap prices (€1.79 for a bottle of local Shiraz) – I was just glad to see they sold porridge oats.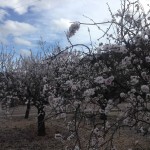 We decided to try lunch at Pepe's in Alcalali – a busy, family run, good value sort of place – we liked our main courses but starters and desserts were disappointingly bland.  Our lack of Spanish is very frustrating.  Tummies full, we had a nice drive through lots of orange groves and pink blossom down to the coast at Denia where we looked at the boats and strolled on the sand a bit.  We saw the Balearia ferry coming in from Majorca – we'll be on it in a couple of months time.
Back home, we unloaded the car and had a cup of tea on the terrace in the last of the day's sunshine.  Still full from lunch!