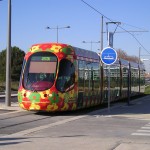 Drive into Montpellier today. Autoroute A9 to Saint Jean Le Sec and park at the P+Tram.
We take line 2 into the centre of Montpellier and recce the station so we can pick up guests when they arrive and try to find long stay parking for my trip back to UK in January.
The Tourist Office is helpful and we also track down an internet cafe to print our tickets for Montpellier v Tigers on Sunday. Line 2 also goes close to the ground so we think we can get to the stadium, through the turnstiles and find our seats.  But who knows!!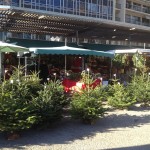 We wander aimlessly, grab a Croque Monsieur (yummy) and a Hagen Dazs ice cream (far too sweet) and find the Christmas Market.  There are over 100 wooden cabins all selling some quite nice things – not the usual Christmas 'tat'.
There are lots of shops and we discover C&A, Gap, Burton and Habitat. A bit bizarre really.
Decide to head back – retrace our steps on the tram, which is a great mode of transport by the way and then hit the Péage. It costs €3.10 to do 2 junctions on the toll motorway.
It looks like the weather might change later in the week so we plan a bit of bike riding tomorrow although we may have to grapple with DHL again – now there's another story!!