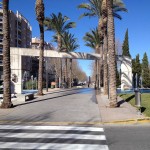 Off to the market on a bright, sunny but very windy morning – Oliva is about 20 minutes drive up the N322.  We saw bags of oranges for sale by the side of the road as we whizzed along but that wasn't all – a young lady every few hundred yards in high heels and nightclub attire.  Derek thought they were waiting for a bus – I don't think so!  All a bit strange on a main road at 11am on a Friday morning!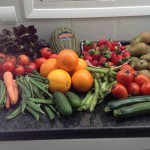 The market itself was mostly cheap tat but local produce was sold at one end so we managed to buy fruit and veg including a kilo of strawberries for €2.50 and 2 kilos of oranges for €1.  Plenty of vitamin C there.  It wasn't a foodie market with bread, cheese, cakes, meat etc like in France so I didn't really get anything for lunch – we ended up having scrambled egg and beans on toast.
We had a walk down to the town this afternoon – all very pleasant but of course it's all uphill on the way back.  Made a pork stew for supper with lots of Spanish ingredients – peppers, olives, tomatoes etc. plus the peas, broad beans and dwarf beans from the market.  It was yummy.
We're planning a quiet weekend – the first week here has flown by.