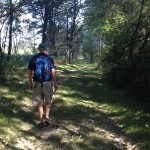 Yesterday we drove to nearby Montlieu La Garde in search of info about walking routes from the Maison de la Foret. The lady in the information centre was really helpful – we know from past experience that promotional leaflets are always freely available but really detailed maps and info cost a few euros. Sure enough we needed the book of walks costing 7.10 euros. Determined to get our money's worth, we set off after breakfast on walk number 25, a 9k circuit estimated to take 2 hours 15 mins.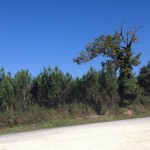 Our newly acquired printer has been very useful – we've printed off and filled out another form for the lovely people at the DVLA and also copied the walking instructions so that Derek could read the map while I grappled with the French instructions for the route.
I am pleased to report the morning was a great success – we had a lovely walk which was fairly well signposted and we're back in time for lunch. Highlights included the clear blue sky, a young deer really close up, lots of wild poppies and scabious and the mid walk coffee and pains aux raisins Derek carried in his backpack.