Happy Valentine's Day
Lovely day – sunny – warm – calm.
With guests arriving tomorrow for 2 weeks I wanted a good ride so set off to for a bit of a climb. My target was the Coll de Rates – about 5 miles from here to Parcent and then the climb begins.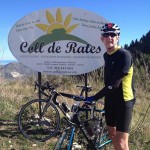 On and on it seemed to go – although actually only 6.8K. Not too steep but just a steady climb. Such a great feeling when you reach the top and even better when you find the BMC Pro racing team there as well.
Leaving the top you think it's going to be downhill – but no – another 10 miles of undulating road  – up, down hairpins, switchbacks. It was not until 25 miles into the ride the pressure eased and then it was a rapid descent to the plain and back to Benidoleig.
And then it was not over – back up the mountain for the 6th time – my legs are shot but determined not to stop – just about made it!
Not enough food and drink today! It was a three hour hot ride – short sleeved summer riding. Just brilliant.
Hope the photos do it justice but I doubt it!!