Today (Sunday) we caught the train from Azambuja to the architect designed Oriente station on the former site of Expo 98 on the riverfront where the Rio Tejo estuary is really wide – spanned in fact by Europe's longest bridge, named after Vasco de Gama.  The area has been developed for leisure and there were loads of families walking, cycling, sitting in cafés and shopping.  There's also a big O2 type concert venue, a cable car, a casino, riverside walks, cycle paths and a park.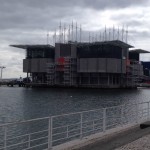 We decided to start with the big attraction – Oceanario – a lovely aquarium/sea life centre which we really enjoyed.  It had all the usual superstars – sharks, rays, penguins and two irresistible otters.  The information boards were excellent and we saw lots of fish, coral, urchins etc that we hadn't seen since our Bermuda days.
You can watch the otters here.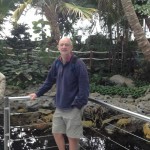 We saw the Jardins da Agua with fountains and stepping stones and strolled up and down the waterfront looking at sculptures and generally people-watching.  We hit the giant shopping centre's food court for lunch and then just walked about a bit more before a cup of tea and then the train home.  Another really good day's sightseeing in Lisbon.
The weekend improves further when both Spurs and Tigers get wins so Derek will be cracking open a bottle of red to celebrate (like he needs an excuse!)