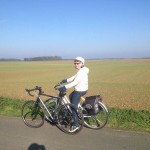 A crisp, sunny day – no heating on in the house but a cool breeze outside in the shade.  Off for a bike ride first thing – 10k via Saint Martin and L'Hermenault.  There is hardly any traffic on these French rural roads and the tarmac is all lovely and smooth – none of the fearsome potholes along the lanes near Wedge Meadow!
After cleaning the bikes, Derek decided to take some more photos against the clear, blue sky so there is a selection including our neighbours' cats and two lovely Lurcher/Collie cross dogs, Charlie and Lola.  He also made a video of the inside of La Grange but is having trouble loading it up – maybe later.  We will be watching the rugby Wales v Argentina and England highlights later on tv.  Yesterday we booked (hopefully) some tickets online  to go to see Montpellier v Leicester Tigers on Dec 15th so looking forward to that – it will give Derek a chance to wear one of his Tigers polo shirts haha!
The big tree in the photo is the fig tree which provides the name for Fig Trees Farm.