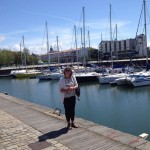 John and Ann arrived on Wednesday, flying in on Ryan Air from Stansted to La Rochelle.  It's a tiny airport where you can see passengers disembarking from the plane on the apron.
We spent a few hours looking round the town and having lunch before heading out to the airport – it was a lovely sunny day so we sat outside at the cafe (moules frites for Derek and goat's cheese salad for me), did the town walk suggested by the nice young man at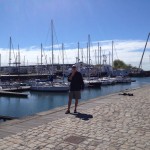 the Office de Tourisme and ended up sitting by the harbour with chocolate ice cream.

We drove home and had hors d'oeuvres on the patio followed by several more courses indoors.  Derek provided lemon sorbet and Limoncello!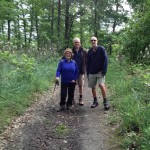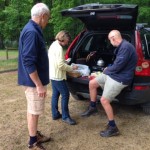 Today is a public holiday (May 1st Labour Day).  Local people sell bunches of Lily of the Valley so we bought some – they smell fantastic.  Derek cycled round to the boulangerie for baguettes and croissants and then we set off for a walk in the Mervent forest.  It was a bit muddy in places and showery but we made it back to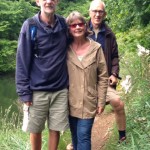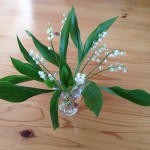 the car for sandwiches and tea.

A quiet afternoon – lots of tea, a stroll around the village and supper at home.  Derek and John are planning a bike ride tomorrow.