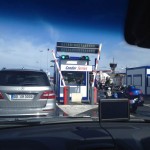 It was raining when we left La Grange at 7am, sunny by the time we checked in for the midday ferry from St Malo but raining again when we arrived at John and Rachel's house in Guernsey. The journey was fine – the French rest areas providing fresh bread, pains aux raisins to go with our flask of coffee and woodland and birdsong as a backdrop!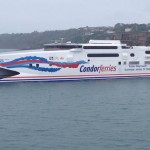 The ferry was really quiet – while I sat quietly, head still, fending off seasickness, Derek got really excited and dashed about exploring, buying coffee, eyeing up the food on offer, checking for wifi, reading all the magazines etc until settling down with his iPad.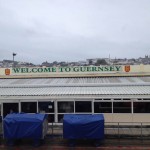 We couldn't find 'Plaisance' and drove up and down Les Merriennes several times until John came out with an umbrella to guide our unreasonably large car onto their drive. We had a lovely lunch, lots of catch-up chat, watched the rugby, had a lovely supper, more catch-up chat and watched the football.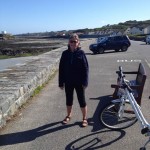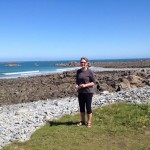 After a good night's sleep, we were up early and into cycling gear for the Rock to Rocque round the island ride. Ali kindly took us to the start and we had a fantastic morning in the sunshine – a major achievement for me at 23 miles (and my first medal!) and a lovely way to see the island. We stopped a few times to admire the views and have coffee and toasted teacakes and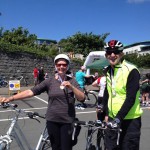 met Rachel at the finish.
After lunch in their lovely garden we went for a walk from Jerbourg along the cliff path – fantastic views and loads of history from The Civil War to the German occupation. We rounded off the day with our first barbecue of the year – burgers and chicken followed by Guernsey strawberries and cream. We also managed to chat to Bob & Gay via iMessage, Jan & Rowly via FaceTime and Mum, John & Chris on Skype. A really good catch-up and a fantastic Bank Holiday Sunday!