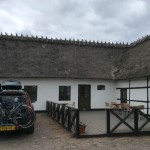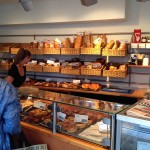 We spent our last few Danish kroner on coffee and cake in Dragor this morning having cycled down to the village for a last look around
at the huge flock of geese and the outdoor sea bathing area. We took our time packing up this morning as we had less than hour's travelling to do even though we were changing countries. We enjoyed our stay at Cottage Farm b&b and had fantastic weather – time to set off with cloudy skies for The Check Inn in Lund, just north of Malmo.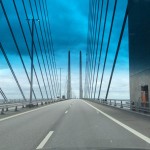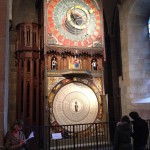 Lund is an attractive little city – we wandered around the cobbled streets, went into the
cathedral called The Domkyran to see its astronomical clock dating from 1440 and a university – which gives the place a nice student buzz. I had a look in a nice kitchen shop with eye watering prices and we began to wonder if we could afford supper in Sweden. We found a supermarket near the station though and bought a cooked chicken, some little spicy potatoes, nectarines, grapes and yogurts at similar to UK prices. A friendly lady in Tourist Info told us all about the upcoming weekend – tomorrow is Mid-Summer's Eve here and it's a big deal!! Shops and services close at lunchtime tomorrow and the whole afternoon and evening are given over to dancing around maypoles and boozing. Everything is completely closed on Saturday for people to recover.
Our b&b seems excellent – we have a nice room as well as access to a fully equipped kitchen including washing machine and dryer. We've got parking outside the room and we may well leave the bikes loaded on to it for the three days we're here – we can stroll into Lund in a couple of minutes and the train station is nearby for getting to Malmo.
Our task for tonight is to watch England v Uruguay on telly with Swedish commentary. Derek is flicking through the channels and has just found 'The Great Swedish Bake Off'!
Sent from my iPad