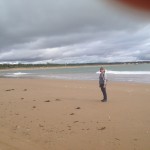 After a quiet Remembrance Day bank holiday weekend, we drove out to the coast on Tuesday and Wednesday.  The weather forecast was better though it proved very changeable.  We set off on a very misty morning to La Tranche sur Mer on Tuesday but by mid afternoon the temperature was up to 20!  On Wednesday we drove to Ile de Re – cold and windy when we got there but lovely and sunny in the afternoon.  Anyway, we always enjoy seeing the sea and were really pleased with both trips.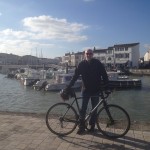 At La Tranche sur Mer we had a 'tailgate' lunch from the back of the Volvo and then a long walk along the beach; on Ile de Re we cycled along lots of tailor-made cycle paths, having a rest at lunchtime for a picnic on a bench at Saint Martin.  Both resorts had the familiar look of the seaside in winter, but there's something really enjoyable about having the beach to yourself.
Photographic note:  all photos taken on Derek's mobile, apologies for thumbs in the way (idiot photographers!) and enjoy Derek's first attempt at a video, shot on his phone – don't think it will be a YouTube sensation!  I am particularly pleased with the photo of my bike with a baguette sticking out of a pannier – tres francais!
Today (Thursday) we are having a catch-up day consisting of various housekeeping chores both digital and domestic – managed to eat lunch outside in the sun though as I write, it is cool, wet and windy.  Very autumnal!  Tomorrow we plan to go to the market at Saint Hermine.
In general, nearly two weeks into our stay, we feel really relaxed here.  There are always a few frustrations – unsettled weather, Derek losing and eventually finding his keys, the fridge being way too cold and freezing the salad – but overall, it's working out well.  Hate to think how many baguettes, camemberts, tartes aux pommes and pains aux raisins we've got through!