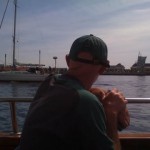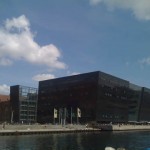 It gets light really early here – about 4.30. Today we planned a second trip into Kobenhavn to finish off the sights. Nothing too heavy, just a canal boat ride, a visit to the Danish Design Museum and a wander around the the famous food market.
The usual routine of cycle and bus got us into the city before 10.00 (we've got the hang of the bus now) and we re-visited Illum for coffee and muffin. It was then off to the canal to pick up the tourist boat –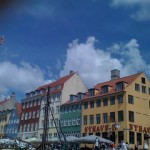 one of the first of the day – and an open air tour of sights. It was a very well spent hour, not expensive and full of info in Dutch, English and Spanish. We took a few pictures – well you have to really – and soaked up the sun which by 11.00 was getting quite fierce. This was another perfect weather day – clear blue sky, very warm sun and just a bit of a breeze to keep it cool.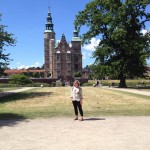 After the boat ride we headed to the National Theatre which we'd seen from the water. This was not easy as it was surrounded by a building site. We were to discover several more building sites as the day went on. It appeared to be closed so we walked to the Design Musuem via the Royal Palaces and tried to find the entrance which was hidden by scaffolding and boardings. Having walked 3 sides of the square the entrance was unmasked behind yet more building work.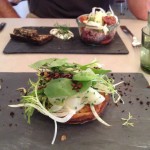 Lunch – I sampled the pickled herring – interesting and Barb had the onion tart – nice. Then followed a bit of a meander through countless Danish chairs – hundreds of them – it seems that chairs are a very important part of Danish design. Not that exciting however and I gave up the will to live as we approached the curvy ones made of plywood!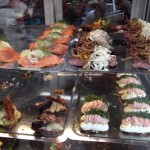 We headed to the food market through the park, battled yet another building site where they are constructing a new metro station and discovered Copenhagen's answer to Borough Market. Lots of food stalls, eateries, meat, fish, cheese – a real mix of lovely looking food and drink. We bought smorresbrod for supper. Four very different ones and then decided we'd had enough of city life. We wandered back along the pedestrianised shopping street and caught the bus back to Dragor.
Oh, I forgot to mention the large open air Israel Plein next to the food market was boarded up and is now a huge building site!
Back at the farm we have several cups of tea and catch up with the news of the day and a bit of website work. Later we have a light supper and sit outside until dark. It's still warm and we encounter a few other guests, mostly North American, and exchange travel stories.
Danny calls to tell us he's been knocked off his bike on the way home from work. He's fine but his bike is wrecked. Fortunately he was with a workmate and his boss was not too far away in the car. He kindly detoured to pick him and his broken bike up and get him home.
The big news on the sporting front is that Spain are on their way home from the World Cup and Spurs' first game of the season is away to West Ham (July16th).
Tomorrow we are off to Malmo, Sweden across The Bridge. Will Saga be waiting for us?
We are staying at The Check Inn bed and breakfast in Lund. They've already emailed and texted to say they operate a self checkin system and given us our secret code.