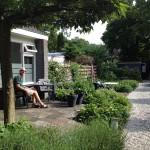 We have arrived safe and sound in Bergen in The Netherlands and are staying for two weeks in one of Nanette's apartments.  First impressions are really good – it's a neat little ground floor apartment, extremely well equipped with a nice patio overlooking the garden.  It's run by two trendy young sisters who inherited the business from an aunt (presumably Nanette) and it's all very modern IKEA with some lovely thoughtful touches.  The garden is really pretty and we were told to help ourselves to herbs and lettuces!  The surroundings and nearby town (5 mins walk) are very leafy with loads of cafés and people riding bikes everywhere – looks promising.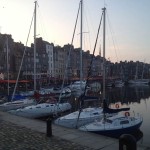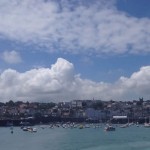 We'll explore a bit tomorrow by bike once we've finished unpacking.  We've had a fairly easy journey here from Guernsey – the ferry crossing was quiet and smooth and we overnighted at Ibis in Honfleur.  It proved a really good choice – excellent parking for the car and a 10 minute stroll into the town which on a warm Friday evening looked magical and was absolutely buzzing.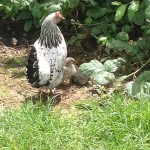 We did a six hour drive today, taking two breaks at rest areas.  The early part through France was quiet and picturesque but driving through Belgium and Southern Holland was trafficky and a bit dull.  We've been in four different countries in 24 hours though of course the European borders are non-existent.  

Anyway, the Volvo is parked and we're hoping to walk, cycle and use the train into Amsterdam for the next few days.  We've eaten pasta and salad, had a mini Magnum and Derek has opened his third beer – two very weary travellers!