Thursday 5th December
Plan a ride out of Pezenas. Lots of research online and find a route from the house up into the hills – about 25miles.
It's warm and sunny but there is a bit of a breeze. I am also concerned that there might be more traffic in this part of France.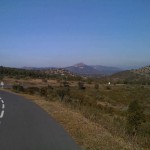 Head out of Le Coteau and past Intermarche. Suddenly there are no cars and the road is clear. The route takes me through Tourbes and on to Roujan and then gently climbs to Neffies. Onwards and upwards and hit the first of the hairpin bends but the climb is not steep and just goes on and on. The views are splendid and the climb continues.  There are no dangerous bits and eventually I am at the top.  Photos don't do it justice but I include one just for the record.
The descent is tricky – fast and furious and I'm not keen on the bends. The wind is also troublesome. However at the bottom I head to Fontes along a very flat straight road and pick up some speed.
The last leg back towards Pezenas is busy – more traffic and narrow roads. Coming into the town itself is a battle and I make a note to avoid this bit in future. I'm back inside 2 hours so all in all a great start.
Barb has had her haircut while I've been out and the hairdresser, Sandra, has a cycling husband and we find out more about the local club.  Sunday looks like a long ride with Velo Club Pezenas. Can't wait!