Despite some extreme weather elsewhere in Languedoc this week, we have survived pretty well. Pezenas seems to have escaped the wet weather and we've been out and about most days. On Friday I did a really nice ride. I'd planned a route where I could abandon if necessary but it turned out to be calm and very warm and I ended up doing nearly 30 miles. It's a real treat to be able to cycle still in short sleeves and just one layer. In fact I'm having problems with too much sweat in my eyes. I'm guessing it won't last.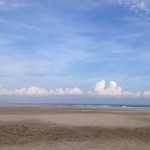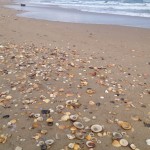 In the afternoon we headed to Marseillan Plage and had a long walk on the beach. We expected a lot of storm debris but in fact it was quite clear. There were even people swimming!!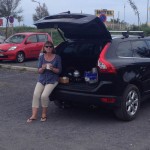 Saturday was always forecast to be nice and it didn't disappoint. The day dawned with a clear blue cloudless sky and bright warm sunshine. We drove into Pezenas and after initially struggling to find a parking space, we hit the market. Again it was thriving and there were lots of people browsing the stalls. Fruit and veg stalls, meat, fish, dried fruits etc etc. After coffee at Cafe des Arts and lots of shopping, we headed back to the villa before taking to the A9 Peage. We had lunch at St Jean de Vedas, took the tram to Sabine and walked to the stadium.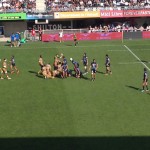 Montpellier v Oyonnax was not a great game – all penalties and a penalty try at the end and marred by the fact that Trinh-Duc broke his leg. Although Montpellier won 25-9 it was rather dull. The weather however was stunning. Fortunately we were in the shady stand – the poor spectators in the opposite stand must have really been suffering with the sun and the heat. (26 degrees). We had a nice chat with another English couple (Arsenal fans sadly) before the match – the chap used to play for London Irish!
The journey home was easy (apart from yet another Route Barre) and we had a quiet evening eating chilli and watching Strictly.