We started the new week with a walk on Monday morning around the nearby town of Montagnac – it was quite well signposted with 'vert d'eau' (aqua blue) markers though we did go wrong once when we got distracted by some rogue markers in powder blue.  Unfortunately these led us past some smelly sewage ponds – we won't make that mistake again!  Yesterday's weather forecast was for torrential rain and storms whereas in fact the morning was dry and it just drizzled a bit in the afternoon.  We did the San Simeon walk in the morning and caught up with work in the afternoon.
Today, the weather was as predicted – cooler but sunny and bright so we decided to have a day out in Montpellier.  We only went into the city centre once last year though of course we've done numerous trips to the rugby stadium, airport and the Odysseum shopping centre.
It's not a particularly historical city and has all the usual city issues of repair and restoration involving scaffolding, traffic cones, diggers etc.  There is loads of building going on, particularly on the outskirts and a huge university population.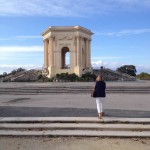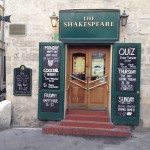 We really enjoyed strolling about today though.  We started at Odysseum sitting in our 'usual' spot outside La Brioche Doree for coffee and then caught the tram to Place de la Comedie.  We walked up Rue de la Loge past the lovely little covered market and across town to the cathedral of St Pierre, the Jardin des Plantes, the Arc de Triomphe and the Promenade de Peyroux.  Remarkably, as we strolled back through the old town, we came across The Shakespeare Pub!
We got into a couple of mix ups with the tram system but finally made it out to Park Suites (a bit like the NEC in Birmingham) where we will be going to see the Elton John concert in a couple of weeks.  We couldn't get much information but there looks to be plenty of parking so we'll probably drive there on the actual night.
Back at Odysseum, we revived with tea and tarte aux framboises and then did our shopping –  new headphones for Derek, a blender and baking dish for the kitchen and some toiletries from the fabulous Parapharmacie section in Casino Geant for Barb.  We were supposed to be buying some new bedding from IKEA but were too weary to face the mighty Swedish retail empire at the end of a long day so we headed home, calling in at Beziers airport on the way back to check out its location.  It's about 25 minutes away for those of you flying out to see us and it's tiny!