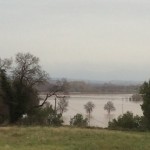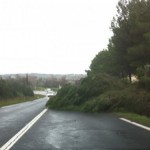 No, we didn't bag any online bargains or scuffle in a supermarket for a giant TV but it was certainly Black Friday here in terms of the weather.  Several days of storms were forecast and it hit here particularly badly yesterday – strong winds, heavy rain and thunder and lightning rolling around endlessly.
We spent a very quiet day doing some website design on the laptop, the main IMac switched off because of the lightning.  We managed to get outside a few times to sweep water off the front porch and to check for damage – the house with its window shutters and big heavy doors is fine.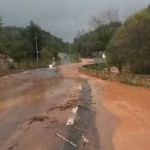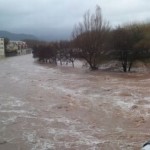 It has stopped raining this morning, the wind has dried the porch but the vineyards between us and the river Herault are completely submerged.  The local online newspaper Languedoc Living is carrying lots of photos of flood damage and casualties and a big local weekend Xmas fair at Cassan has been cancelled because of flooding and road chaos yesterday.  Derek had a look through the binoculars and couldn't see any traffic on the bridge, so we're guessing the road to Pezenas is closed.  We'll have a stroll out later and have a look!