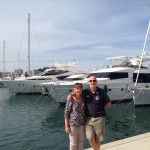 After two good rides on Sunday and Monday, Danny and Britt took a rest from cycling and spent a quiet morning sitting by the pool while Derek and I caught up with a few chores.  We headed down to the marina at Denia for lunch.  After doing some online research, Derek had decided that a restaurant overlooking the harbour called REPUBLIC  looked a good choice and he was right!  We got a waterside table outside and they had a special 4 course menu for €9.95.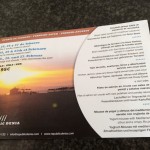 It was all absolutely delicious and included sorbet between courses and dessert wine at the end of the meal.  For the four of us with bread and aioli, wine, water, coffee and a tip, it came to €80.  Pretty much perfection!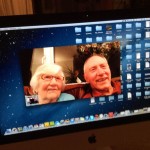 The evening had its highlights too – a Skype session with Nan, John and Chris.  We all gathered round the computer and had a good catch up.  Photos of the pool at the villa were requested so we took some this morning plus a few more pics of the intrepid cyclists returned from the Wednesday morning ride. It rained for 10 minutes in the afternoon – such a rare event that we took photos.