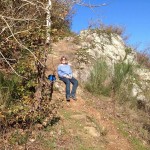 Today is an 'at home' day – we are recovering from yesterday's walk in the woods. Having completed the easier, shorter walks in the guide book, we upped our game and went for one described as 'difficile' with 'une grande boucle (loop) très difficile'. It proved to be quite challenging and had us clambering over endless rocks, wobbling on unsteady terrain, going up and down relentlessly and sometimes just shuffling on our bums! Needless to say, we didn't take many photos. The weather and scenery (along the River Vendee) were both lovely and we remained cheerful even though we took over 4 hours for the supposedly 2 hour walk.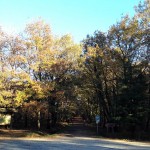 So today we are catching up with some emails, admin and clients and starting to think about packing up and route planning for our departure on Sunday morning. We are wondering what our electricity bill will be for the month – they have three tier pricing here. When we arrived, we were on the lowest tariff, the last two weeks have been mostly medium tariff and then, yesterday, it went onto high tariff – there's a little gadget in the kitchen which indicates the tariff for today and tomorrow.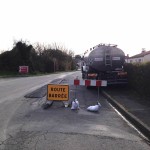 Workmen are still replacing the road surface just in front of our driveway – they do a few hours work on it every few days. Penny warned us to ignore the 'ROUTE BARREE' signs when we arrived and I don't think they'll complete it before we leave!