After our trip to Montpellier on Monday, the weather clouded over a bit for a few days so no morning frosts and slightly warmer temperatures.  We've had a fairly low key week sorting out a few things at the house, doing a big supermarket shop and finding out more about what's around Pezenas and beyond.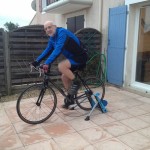 After a bit of a battle with DHL, we finally managed to take delivery of Derek's parcel and he set up his turbo trainer on the patio – it's a good substitute for the spinning classes he was doing in Stratford and he reckons it works off the calories that the beer and red wine might otherwise pile on.
We've walked around Pezenas quite a bit now and have started to join it all up.  It's got a lovely old town which is a centre for arts and crafts so lots of grand architecture and little artists' studios as well as all the usual boulangeries and charcuteries.  The big supermarkets are on the outskirts and are close enough to walk to.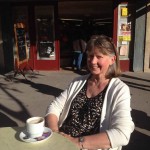 We went down to the Saturday market again which we really enjoyed and had coffee in Cafe des Arts sitting in the sunshine.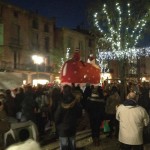 The Christmas festivities have begun in the town with all the Xmas lights on and some sort of mad procession on Saturday night.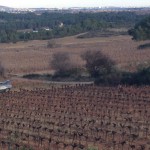 We've done a bit more walking and cycling – another lovely ride around the vineyards above the town and back through Tourbes – I am getting a bit better at the hills and more used to the gears on my bike.  The area has miles and miles of vineyards everywhere – the vines look pretty brown and bare at the moment but there is always a lone fella tending them by hand.
Having got some maps and walking guides, we set off to walk La Via Domitia, an old Roman road in the Bois de la Vallongue near Pinet where they make the Picpoul de Pinet wine.  Despite maps, finding the start of the walk was very tricky but Derek's persistence paid off and the walk itself was fabulous with pine trees and grape vines everywhere, lovely views, information boards and clear signage.  We will certainly revisit.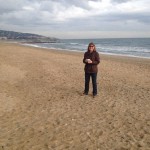 We also had a drive to nearby Agde, a town dating from Phoenician times!  and then on along the coast to Seté, stopping for a cup of tea brewed in the back of the Volvo and drunk on the windy beach.
Derek is out doing a long bike ride at the moment and then after lunch we're off to the rugby in Montpellier.  Come on you Tigers!