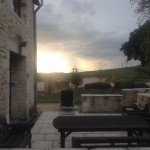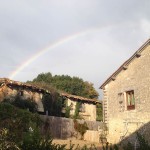 The weather continues to be glorious – lovely blue skies and temperatures in the high twenties. The last two afternoons have seen some thunderclouds rolling in and some incredible thunder and lightning and rainbows. It rained quite a bit on Wednesday night but sure enough, Thursday morning looked lovely so we set off on a 12k walk – Circuit de la Foret de Chaux. We really enjoyed it but the humidity had us dripping hot – we had to dip in the pool when we got back to regain our composure!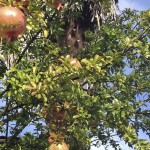 Luckily, the house here is really cool throughout and the little patio at the back is nearly always in deep shade. Derek did a short bike ride this morning but otherwise we've had a quiet few days, doing some Flashback work and pottering about the house.
Derek made a very nice pasta dish last night – spaghetti with roasted veg, mozzarella balls, basil and olives and I made some mushroom pate and for tonight two more recipes from Jack in The Guardian – baba gosht (lamb and aubergine curry) and green beans with cumin, mint and yoghurt.
We've been here two weeks now – time flies!