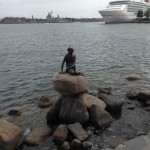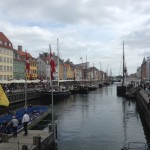 We've had a good day's sightseeing in Copenhagen today.  Getting in to the city was straightforward – we cycled down to the main road and left the bikes in the racks at the bus stop and then caught the 350S bus – about 30 minutes in all.  Armed with the Pocket Rough Guide to Copenhagen, we strolled around pretty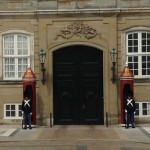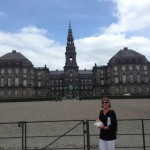 much all day and saw a lot of the main sights – Tivoli Gardens, The Little Mermaid, Nyhaven harbour, the Amalienborg royal palace, the Citadel, The Radhus and The Latin Quarter plus lots of other grand buildings including Folketing (the Danish Parliament – you know, where Birgitte works in Borgen!)

As in all cities, there's a lot of construction going on – new metro stations seem to take forever to build and make the place look really messy – cranes, diggers, scaffolding, big holes in the ground, paths closed.  We saw a fair bit of all that today.

The names of places are weird and wonderful – we arrived at the city's grandest square (well it will be again in 2017)  called Kongens Nytorv (King's New Square) and strolled through the main shopping area (Stroget) and saw a Renaissance palace, The Rosenburg Slot.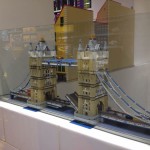 We didn't go into many shops, but the ones we did were like little art galleries – George Jensen, Royal Copenhagen, the department store Illums and of course the flagship Lego store.

For lunch we bought four different 'smorrebrod' – little open sandwiches on rye bread with delicious complicated toppings.  They were yummy.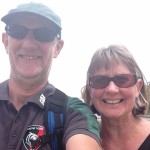 The day's other highlight was the teenage girl frenzy around Hotel D'Angleterre where One Direction were staying prior to a concert tonight.