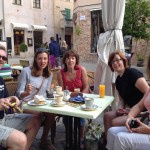 We cycled into Pollensa today as Sunday was market day and spent a lovely morning looking at the stalls, having coffee and cake and meeting up with Rob, Liz, Jackie and Jo who had come in by bus.  The town was buzzing with people, there was live music and guns being fired and the whole place looked beautiful in the sunshine.  The fruit, veg and flowers on the market stalls were a real tonic to see and we bought strawberries, plums, kiwis, almonds and honey.
We went back to the cafe for lunch and our salads (which eventually arrived with lots of apologies) were so yummy that we wrote down the ingredients so we can replicate them at home.  Pollensa is not an easy place to find your way out of but we eventually spotted the path and cycled back fairly easily, most of it downhill or really flat.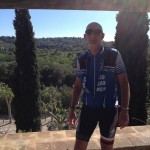 Not wanting to miss a day's serious cycling, Derek set off at 3.30 with Jackie for an afternoon ride to the caves at Campernet.  They stopped for coffee on the garden terrace, with fabulous views that make you feel you're on top of the world.  It was a bit windy but behind them on the way back – always a good thing.