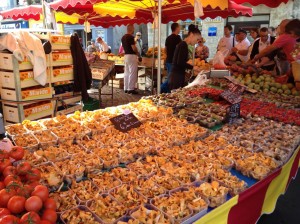 Had a lovely Saturday morning in Pezenas at the market – it was really busy and bustling with more stalls than we'd ever seen before (we didn't arrive last year until December.)
We cycled there and back so could only carry so much home in my panniers and Derek's rucksack.  We were pleased with our haul though so took a photo of it all on the kitchen table before we started munching through it for lunch.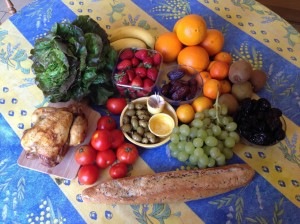 There were lots of lovely  flowers and plants too but we just couldn't carry them today!  We also eyed up the Chinese food stall which seems hugely popular and have decided to try it next time.  The prunes, olives and dates are really topnotch, the seeded baguette was yummy and the 'poulet moyen' €8.50 ( a bit cheaper than that one we bought in Fontenay Le Comte!!)
I've made two curries for supper tonight, veggie balti and a creamy chicken one which I hope will go well with several hours of Strictly!