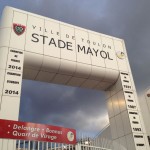 We booked tickets and accommodation months ago for Toulon v Leicester Tigers so today saw us driving three hours eastwards to Toulon, a city tucked between the mountains and the Med. We stopped for lunch in Arles and arrived at the Ibis Hotel mid afternoon. The Stade Mayol rugby ground is unusual in being right in the middle of the city – it's so close to our hotel, I reckon we could pop back to our room for a cup of tea at half time.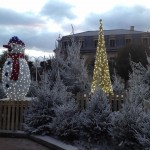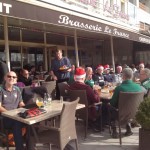 We had a wander around the new shopping mall and the older pedestrianised streets – lots of fantastic architecture, a huge market, nice shops, cafés and excellent Xmas decorations everywhere including a winter wonderland and ice rink.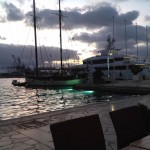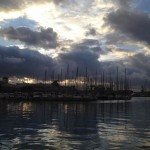 The waterfront is impressive and we spent early evening sitting outside Bistro Le France drinking large beers and eating bruschetta and moules frites. There are lots of Leicester Tigers supporters everywhere all decked out in club kit though mostly without the athletic bodies it was made for.
After last week's win against Toulon at Welford Road, hopes were high for a good match. Toulon are always strong at home and this proved to be the case. Right from the start they were aggressive, direct and very powerful. Tigers were always firefighting and never really got going. A bit disappointing really – Tigers were never in it; it was 16-5 at half time and the result was never really in doubt. Toulon were just too strong and won 23-8 in the end – they scored a great try right in front of us.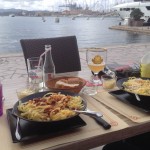 After the game we ate again on the waterfront and sat outside looking at the boats and listening to the hordes of Tigers fans drowning their sorrows.
Sunday morning – breakfast and another visit to Toulon market. Just magical really. We buy flowers and loads of veggies, chat to the stall holders who are very friendly (the flower man tells Barb he loves her and another gives us free avocados when we buy clementines.)
An easy drive back to Montpellier where we take a break for lunch and pick up groceries in Geant Casino. Eventually arrive home around 4.00. A really good weekend away despite the rugby result and we will get to see the mighty Toulon team again in January when they travel to Montpellier.