Christmas Day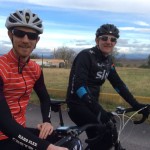 A nice morning so Danny and I decide to do a short ride – just 12 miles. Before setting off we walk to the Boulangerie for fresh bread and croissants and then Danny re-builds his bike and we do the Florensac, Pomerol, Pinet loop. Back at the villa we have another breakfast and potter about. No pressies this year – we are obviously on the naughty list!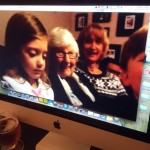 Lunch today is turkey paella – we have a light lunch and then off on the St Antoine walk, a 7 km circular route from the house. More food and drink when we return and in the evening we FaceTime the family and eat our way to bedtime.
A lovely calm Christmas day in the south of France.
Christmas Eve
The weather was too good this morning not to ride so a quick 15 mile circuit before anything else. Back at the house there were chores to do – more log cutting, cleaning and final prep for Danny's arrival.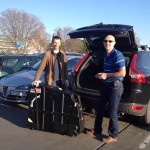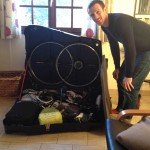 Easyjet and Gatwick airport were on better form this year and the flight took off on time so after lunch we headed to Montpellier to meet it. Danny arrived to glorious weather and after a bit of a struggle to get the bike box in the car we drove back to Castelnau to unload.
After tea and biscuits we nipped into Pezenas for a wander, a few beers and a chicken! A lovely early evening stroll through the town, all lit up and with Christmas music playing over the Tannoy system. The place was busy with people collecting last minute goodies including huge trays of seafood that were being prepared in the street. Oysters, shellfish, prawns and langoustines all wrapped in cellophane.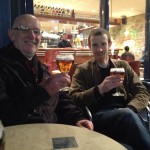 We had a couple of beers at Cafe des Arts which was busy with festive locals and incoming Brits and Barb met a lovely big dog who took a liking to her. We picked up the chicken and bought 3 langoustines at €3 each to decorate the turkey paella tomorrow.
Back at the villa we began the Christmas eating and drinking – Belgian beer, Picpoul de Pinet, Bouaillbaisse, French cheese, Pinet de Charentes and chocolates.