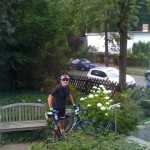 Started the day with a 25 mile bike ride through the nearby woods on traffic free roads. A few hills to make it interesting and lots of other riders out there. Nice and warm, no wind so a really good outing.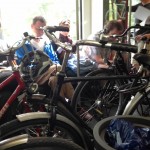 A quick turnaround back at the hotel and we set off for Central Berlin on the S-Bahn. We seem to have this under control now although the train we were expecting to catch suddenly disappeared and we had a bit of a wait for the next one. This was a bit crowded and as bikes are allowed on the trains here it proved an interesting journey.
We arrived at Potsdamerplatz and set off on foot to visit The Brandenburg Gate, The Reichstag and The Holocaust Memorial. A stroll along Unter den Linden took us to the Book Burning Memorial (via Dunkin Donuts) and Museum Island.
More walking and we headed into the 'Downtown' area and wandered the streets and courtyards of Hackescher Markt.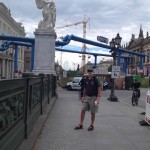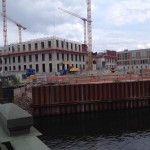 The centre of Berlin – supposedly a paradise for cyclists, was full of heavy traffic and pedestrians. Add to this the unbelievable amount of construction going on and you would rightly guess that we don't plan to take the bikes in to this part of the city.
Food today was very casual, curry wurst early on, a cheeky donut and finally bagels and cream cheese at Barcomi's. This was a real find – recommended in the guide book and spotted by Barb they do fabulous cakes and fresh baked bagels with delicious coffee. We may go back to this one!
The train back was uneventful. We buy fruit and a few basics and recover back at the hotel. After watching Andy Murray reach the quarter finals we decide on a final bit of exercise for the day and take the bikes around the lake – Schlachtensee.
Just so you don't think this is all fun – we have also been updating websites, writing blogs for clients and building a couple of new sites.
Ah well – time for the Germany/Algeria game.