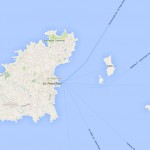 The four of us took the 12.15 ferry to the nearby island of Herm today and spent the afternoon walking along the coastal paths and stopping for lunch at Shell Beach. Herm has a population of about 50 and no real roads or cars – a really peaceful island with a beautiful coastline and beaches and lots of wild flowers, birds and butterflies.
By contrast, back on Guernsey, we stopped at a huge Waitrose to buy ingredients for tomorrow night's bouillabaisse – haven't been in a UK supermarket for months!
Sadly, tomorrow is our last full day in Guernsey. Derek hopes to power up a few hills in his new Ornot cycle shirt while I'm getting a haircut and doing some shopping in St Peter Port – we'll probably meet up for lunch in town.
We have had a lovely week here, catching up with John and Rachel and exploring the island but on Friday we have a lunchtime ferry back to St Malo and then a couple of hours' driving to Honfleur where we stay overnight. Saturday is a big driving day – into Holland for a two week stay at Bergen, just north of Amsterdam.