John and I set off on a long bike ride. It's been over a week since I've been on the bike and I'm wondering if the legs will rebel. Although the Vendee is supposed to be flat, we seemed to do an awful lot of steady climbing. Fifteen miles into the ride we reach the cafe stop. Slight problem – no cafe! We push on through several villages – still no cafe. Eventually we detour to Vouvant and find a suitable stop – cafe creme but no cake – not even a pain au raisin was to be had. Undeterred we head for home – surely it must all be downhill, but no – how can we do 45 miles all uphill? Back at La Grange, Barb and Ann have been busy and we get back to fish and chips with salad.
After lunch and a bit of a rest, we head to HyperU for more food – we only have one meal a day – but it lasts all day. Two trolley loads later we check out – the cashier was English – and we arrive back just in time for drinks, nibbles and yet more food. Several courses including blue cheese salad starter, pork chops with ratatouille, and apple lattice tart with ice cream (not to mention the sparkling wine and the local red).
John, Ann & Barb take a stroll around the village to walk it off while I catch up with a bit of work and a chat to Danny.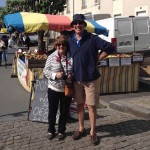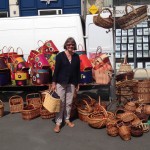 Saturday morning – off to the local market in Fonteney. We buy more food, an expensive cooked chicken for lunch and a bandana! Coffee in the corner cafe where Barb meets Oliver and decides that a flat-coat retriever is the dog for her and then back to base for lunch.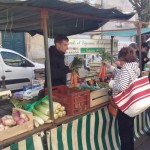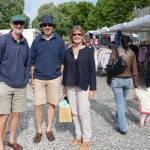 The sun is shining and it's beginning to warm up – a bit of R&R and then off for a walk based around Vouvant where we take lots more photos.   John and I finish the day with another ride  – a 12 mile circuit – we need to in order to work off some of these calories and to build up a thirst for the evening.  Ann cooks a lovely supper with smoked salmon starter, sausages Jamie Oliver style and a trio of pastries.
A really nice way to spend a Saturday!