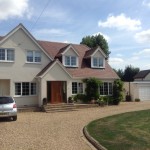 We have now settled in at The Limes in Great Amwell.  This is our first venture into house sitting for a while and we are looking after a lovely big house in Hertfordshire with 2 Labradors for company. Rusty is 12 and Oscar is 2, nearly 3.
The owners, Stuart and Ann have been very welcoming and we arrived on Saturday a few days before their departure for a holiday in Turkey.
I've been for a couple of great bikes rides with Stuart to get to know the area and we've also been on several dog walks.  There are lots of cafés and pubs and some lovely walks along the River Lea.
We have also managed to see Barb's mum several times and had a family BarBQ on Saturday so caught up with all the news.
The next 10 days will be more dog walking although Danny and I plan to do an 81 mile sportive out of Thetford on Sunday.
Its Barb's mum's birthday on Saturday so a birthday lunch is planned.