Montpellier v Leicester Tigers, Heineken Cup round 4, December 15th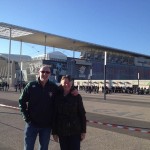 We bought tickets online a while back and managed to get them printed while in Montpellier on Monday.
After a long bike ride this morning and a quick lunch we drove to Saint Jean de Vedas to the terminus of the line 2 tramway. Tram to Sabine and a short walk to the Yves du Manoir – the Montpellier ground.
The weather was warm (again) – clear blue sky and lovely sunshine. The stadium was impressive  – not full though and there was a good proportion of Tigers supporters who had made the journey to the south of France. There was even a large contingent of Exeter Chiefs supporters who had been to their game in Toulon yesterday.
After the game last week when Tigers won 41-32, we expected a fast open game with lots of tries – oh no! At half time, after an exciting first half, it was 0 – 0.
During the break we had the usual picnic – quiche, salad and nibbles. We'd already polished off the tea and cake when we arrived.
The second half was DULL.  Tigers were half asleep, Montpellier defended well and despite an early Tigers breakthrough, the home team  took control and led 14-5. A Tigers penalty brought them within one score and as is typical, a last minute try and conversion gave Tigers the game 15-14. They were fortunate and we actually felt sorry for the local supporters who were crushed by this last gasp victory.
We took a few pics –
A free Montpellier flag won Barb over and she is now an ardent supporter and vows to return on 29th December when Montpellier play Biarritz.