Saturday 30th November – designated pack up day. It was warm, sunny and clear so before lunch we went out on the bikes instead!  Saturday afternoon was spent packing bags and boxes, putting the roof box back on the car, attaching the bike rack to the tow bar and loading the Volvo.  Fortunately the weather was still good so it all went pretty well.  A very different day to when we arrived in torrential rain.
We were up early on Sunday and away before 8 am.  A six and half hour journey ahead and it was still dark.  The peage was only about 10 minutes from La Grange so we were quickly motoring at 130k/h on an empty road and heading south.  One of the great things about driving in France is that you can generally time journeys pretty well so we planned to drive for two and a half hours and then stop for coffee. We could then do two more and stop for lunch and then be in Pezenas for 4 pm.
It all went smoothly with just a few interesting moments. The very first toll booth where we had to take a ticket seemed to think we were a truck and produced a ticket about 6 feet up in the air! Barb had to get out and reach up. Would we be charged as a lorry?  After an hour, an unscheduled stop (for a wee) led us to perhaps the best 5 star service area we've ever seen.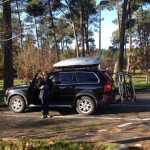 Time to pay the toll – a whole series of height restricted lanes. What is going on? Is the roof box confusing the French road system. We edge under a line of dangly things, pay up and head off towards Bordeaux. I check the the roof box is still intact but somehow turn the interior lights on.  In trying to turn them off, Barb accidentally presses the button which opens the roof a bit.  Just as we are dealing with this and navigating the only tricky interchange of the entire journey around the outskirts of Bordeaux, the satnav runs out of battery and dies.  A few dodgy minutes later, we arrive at a rest area for a much needed cup of coffee.
The French army seemed to be out on training manoeuvres – each time we stopped, the motorway services were swamped with soldiers.  At one point Barb was in the shop buying biscuits at the head of a queue of about 30 teenage soldiers all carrying guns.  In order to stay calm, she kept reminding herself of Danny's  assurance that teenagers find middle aged women really intimidating and  scary.
We arrived at Coteau Moliere, a little gated community of town houses by about 4pm and unloaded the bikes into the garage and ourselves into number 5.  We were welcomed by three cats who all seemed to think they lived with us!