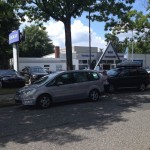 The plan was to leave Ammersbek on Friday morning and head to Berlin but the problem with the car meant we had an appointment with Volvo in  Ahrensberg. We arrived early – before 9  –  and they investigated the problem. After about 2 hours the service agent sat down with us –
"not good news – you must go home"
Undeterred we probed for more information. "The tow bar had failed"! no that can't be right.
"The turbot had failed". Sounds a bit fishy!
Eventually we got it – The turbo had failed  – no this is not good news. Not only expensive to fix they were too busy to do it.
Back to Volvo Assistance –  they came to the same conclusion we had. Leave the car with the dealer and hire a car to get you to Berlin. Amazingly – they would pay!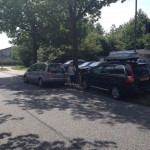 By late morning they had found a rental company just around the corner – hired us a Ford Galaxy so we could carry the bikes and arranged for the dealer to fix the car if they had time.
We transferred everything we needed for a week in Berlin and set off around 1.30. Not quite the the day we had planned but it's all part of the adventure.  We'll have to see if they have fixed the car by next Friday when we have to return the rental car.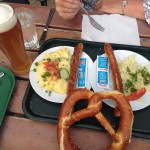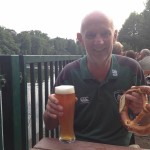 The journey in a left hand drive, manual was tough and seemed to take ages. However we arrived safe and sound before 6, checked in and set off for a stroll. The hotel is lovely – a bit like a larger Eastnor House – and set in a beautiful leafy road called Bogotastrasse. The whole area is covered with lakes including Wannsee ( history buffs will know that name) and the closest to us is Schlachtensee. We discover a biergarten/restaurant about 10 minutes from the hotel and right on the lake. We feast on pretzel, bockwurst, sauerkraut and kartoffelsalat – and of course a massive beer.
Afterwards we walk a circuit of the small nearby lake and get back to our room around 9.30. Not quite the day we had planned but we're still having fun.