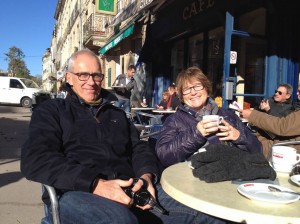 There's a strong, cold wind blowing this morning though the sky is blue and the air lovely and clear and bright.  We decide that a stroll around the old part of Pezenas and a stop for coffee will fit the bill so we park in Parking Voltaire and have a wander through the narrow back streets, John taking photos and Ann and I browsing a few of the little craft shops.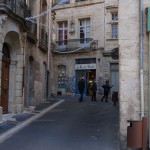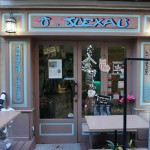 We sit outside in the sun for coffee and Madeleines but the wind in the shady little lanes is biting.  On the way back to the car, we discover a little lane we've never seen before called Rue Francois Oustrin with a lovely art workshop called Hotel des Barons de Lacoste and a cafe mysteriously called O.Ju ex Au which we later discover has excellent Tripadvisor reviews.  We will return on a warmer day!
On our way home, I call in to the big greengrocer's in a third attempt to get some logs delivered.  We've now ordered and paid for two 'steres' to be delivered on Thursday morning – fingers crossed!