Having spent July and August in the UK, we're off to France again – just two locations – Chevanceaux (near Bordeaux) for three weeks and Castelnau de Guers (near Beziers and Pezenas) for four months.

We've got a slightly shinier, updated look on the outside.  The Volvo XC60 replaces our old XC90 and Derek is sporting some new polo shirts including this season Tigers design.  Inside, it's the same old us and we'll be doing all the usual stuff – walking, cycling, cooking, updating websites etc etc.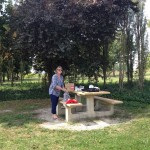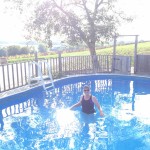 We've had two driving days – yesterday we did Stratford to Folkestone, Eurotunnel to Calais and on to Le Mans to overnight in one of the ever reliable Ibis hotels. Today we've driven via Tours and Poitiers down to to Chez Amelia – a barn conversion which I think will suit us fine.  I've dipped into the pool – it's been about 28 degrees this afternoon – but we've still got loads of unpacking to do.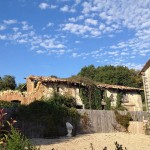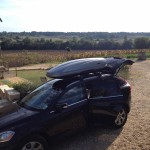 The French countryside along the journey looked well tended as usual with field upon field of sunflowers growing but as usual so many little towns and villages look rather closed and deserted!  It's 'back to school' here too so summer festivals are all done and tourist attractions start to wind down.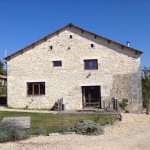 So, I'm sitting on the patio watching the sunset and Derek is setting up his office just inside in the kitchen/diner.  So far, so good!