Our third trip into Amsterdam – we cycled to Alkmaar after breakfast (muesli again!) to catch the train in showery rain on a humid bank holiday Sunday with a picnic in a rucksack – not the best circumstances, we knew.  We had a slight panic about the train tickets – a new type which had to be scanned in and out.  We found the train about to leave but no scanning post.  The platform official hadn't seen the new tickets before, told us not to worry and, a bit of a comedian, slapped the tickets on his forehead to 'scan' them.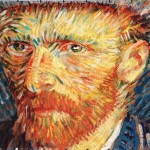 Had a chat to two Dutch girls on the train who were on their way to the Pinkpop festival where The Arctic Monkeys were headlining.  We set off from Station Centraal on foot, stopping to buy a nice little framed black and white print of a Dutch bike and to have coffee and a second breakfast of scrambled eggs and bacon on our way to the Van Gogh museum.  The sun was out now and it was getting hotter.  There were huge queues but our Museumkaarts put us in a fast track lane and after about 20 minutes, we were in.  It was exceptionally good – lots of paintings in cool, uncrowded galleries and interesting information about the different styles he used in his short career.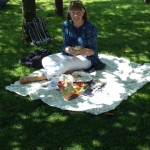 We had our little picnic in the shade in Museumplein and then walked to Vondelpark – Amsterdam's only big, green space.  It had everything – lakes, playgrounds, a theatre, cafés and it was absolutely buzzing with people enjoying the holiday sunshine.  We haven't seen a single collision yet despite bikes, pedestrians, skaters, dog walkers and kids all out and about.


The other big museum in the area is The Stedelijk – a gallery for modern art – so after a cold drink in the shade at their outdoor cafe, we strolled around.  By late afternoon, it was fairly quiet and had a lovely cool, airy feel to it.  The modern art was fun to wander past and beautifully displayed though often completely mad.  We got close up to a Jackson Pollock and could see the thickness of the paint!

A long day but we walked all the way back across the city via M&S Foodstore where we bought sausages and chocolate raisins. We just made it to the 18.12 train and then cycled home the last leg.  A really good day but a bit hot and sticky – we sat on the terrace for a quiet supper, had a long chat with Danny about his weekend in Stratford and slept soundly.  Tomorrow, I think we'll stay here, catch up with work and take it easy.