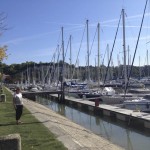 We are not far from the coast here in Chevanceaux and the Gironde River Estuary is only about 45 minutes away. The lovely spell of weather is forecast to end mid week so we set off to explore the Route Verte which runs north from Bordeaux to the coastal port of Royan.
We started off in Montagne sur Gironde because it had been recommended and we were promised some nice restaurants. Unfortunately, Monday out of season, they are all closed so we settle for coffee next to the marina and then head to Talmont, Meschers and Saint Georges de Didonne. Lunch beckons but still no beach cafes offering Monday repas! We settle for a picnic having spotted SuperU and buy the usual baguette, cheese, ham, fruit etc. We find a lovely park by a lake and sit in the sun with our al fresco lunch.
Suitably full we set off for Royan, park up and discover a huge expanse of golden sand, a marina full of boats and a fair few cafes still serving – ah well!! We wander about, take lots of pictures and find a beach side shady cafe for a drink. It has wifi of course so I am able to spend an hour pretending to do some work – well at least dealing with emails.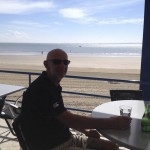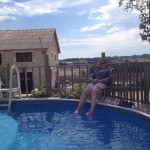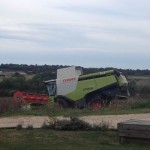 A long drive back to Chevanceaux – a welcome cup of tea and our now ritual dangling of the feet in the pool while we drink it. The folks at Saga would be proud of us.
The harvesting of the sunflower seeds has now begun and we were treated to some close up views of the combine at work!