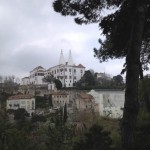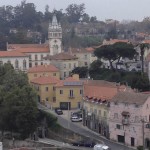 We like a good day out and the guide book recommended the hilltop town of Sintra – former summer residence of Portuguese royalty and a UNESCO World Heritage Site.  About an hour's drive away, it has palaces, a Moorish castle and some lovely gardens.  We checked out the tourist bus whilst sitting with the now daily treat of coffee and pastel de nata but decided to venture up to the castle on foot, having taken advice from the nice lady in Tourist Info. It was a lovely stroll into the town and past the Palacio National and then the climb began – about 40 minutes up a steep, cobbled path towards Castelo dos Mouros.  We met two Spurs supporters on the way up, having a look round Lisbon before the game against Benfica in the evening!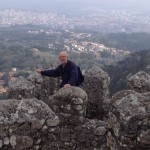 The views were fantastic of course though our photos aren't great as the sky was a bit grey.  We made it to the top and then ate our sarnies at the outdoor cafe where they made a lovely cup of tea.  We chatted to four ladies from Ohio on a walking holiday who asked us about our trip and gave it a perfect name – we are on sabbatical – I will use this word from now on to describe our travels.
Back at the car, we decided we had enough energy for another attraction and chose the palace and gardens at Monserrate.  We drove up some perilously narrow, winding roads to get to it but it was worth it.  Two wealthy Englishmen had helped develop the place in the 18th & 19th centuries, importing gardeners from Kew, flocks of sheep, ferns, palms and conifers and the first lawn in Iberia.  The palace itself was modelled on The Brighton Pavilion and The Duomo in Florence.  Out of season, it was really quiet there and we had a lovely stroll around before heading home in time to light the salamander stove and have chicken casserole for supper.
Friday is a 'rest' day at home – cooking, laundry, websites etc and then we're off for more Lisbon sightseeing at the weekend.