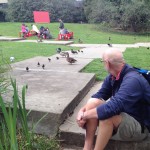 A sunny morning and we're off into Lisbon again on the train which arrives on time at Santa Apolonia station.  Derek has mastered the ticketing now for Lisbon's train and metro lines and we've got our rechargeable Viva Viagem passes for both systems.  This morning we get the blue line to San Sebastiao and head for the Museu Calouste Gulbenkian and the Centro de Arte Moderna – two art galleries.  They are set in a park full of sculptures where lots of families are feeding the ducks and people are doing art classes and painting in the open air – a lovely atmosphere.  A lot of the modern art is a bit baffling but it is set out in a quiet, spacious building so we wander round quite cheerfully.  The Gulbenkian collection is a bit like the Burrell Collection in Glasgow – one rich man's bequest to the city.  There are some textiles and clothing which I really like and a fabulous collection of Lalique glass and jewellery as well as all the usual Old Master and impressionist paintings and oriental ceramics.  We really enjoy looking around and then have some lunch outside on the terrace.
We have found everyone we speak to really friendly and helpful – they are very keen  to speak English and take time to explain and chat.  That, combined with lovely weather, is making Lisbon a really nice city to stroll around.  It also helps that there are cafes everywhere, the cakes are delicious and they make a good cup of tea!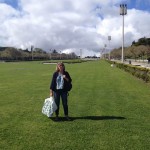 After lunch we spent an hour or so in El Corte Ingles, a lovely department store like John Lewis – down in the basement food hall we bought bread by the kilo and some chocolate cake for later.  We then walked through the park and down the wide Avenida da Liberdade before heading back towards the metro for the homeward journey.