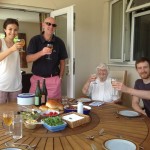 Where does the time go? We have been here now for over a week and are beginning to think about moving on at the weekend. Ann and Stuart arrive back in the early hours of Sunday morning so we shall be heading south to the New Forest to stay with our friends Gay and Bob.
We had planned to do a lot here and I suppose we've been lucky with the weather (again) but we get the feeling that time is not on our side and there is still loads of exploring to do.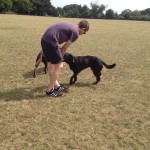 This is a nice area, close to Ware and right beside the River Lea and the Lea Valley recreational park.  There are walks, cycle trails, river sports, loads of nice pubs and lovely countryside – just not enough time!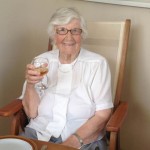 We have however seen family – Barb's mum has been here nearly every day and we've taken her out and about with us. We've seen John and Chris, Andrew and Clare and of course Danny and Britt, who came for the weekend.
This house has just about everything but needs a lot of upkeep – Barb has been looking after the garden while I have cleaned and serviced our bikes (well, Danny did most of it). The dry weather has meant lots of watering and dead-heading in the garden although today it is raining – our first for many weeks.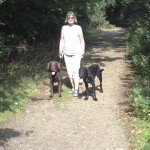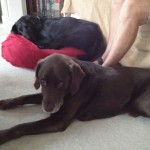 The dogs are lovely and always with us. Rusty has become quite sociable and Oscar just wants to chase apples! We've also managed to set up the office and keep on top of work. When we do this, the dogs just come and sleep at our feet.
Danny and I did the Thetford Sportive on Sunday – 81 miles of Suffolk roads.  It was an early start and a lovely day but somewhat eventful, but that is a blog in itself.
We have however managed to arrange another housesit when we leave Fordingbridge. From the 20th of August will shall be looking after Riley and Hunter – 2 golden retrievers – in their Suffolk Farmhouse. More of this later.