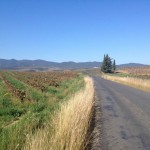 I knew Thursday was going to be a 'perfect weather day'. The forecast all week had been for a warm (hot), sunny, calm day and the Meteo boys got it spot on.  The plan was to cyćle to Faugeres and then have a look around some of the routes up there.
Not an early start – I needed to do a few web updates first thing – so I got going around 10. The route took me to Nizas, Caux, Roujan, Gabian and then north to Faugères. A long steady climb that seemed to go on and on. I passed several interesting cafes on the way in Gabian and Faugères and wondered if they would be open when friends come out to ride later during our stay.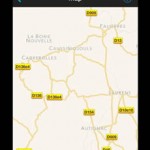 At Faugères I headed for Caussiniojouls and Cabrerolles and had a bit of an explore.  The ride was just lovely and the views were stunning.
The return was via Autignac and St Genies de Fondit and then on to Magalas, Pouzolles, Margon and Tourbes.
I was out for about 4 hours in the end and did 55 miles. Back at the villa it was time to stretch, dangle legs in the chilly waters of the pool and soak up the last of the day's sunshine.
An awesome ride.