We had breakfast provided this morning, Swedish style.  There was ham, salami, cheese, liver pate and a special herring and potato dish – but we ignored all that and had toast.  We've been breakfasting on just muesli for weeks now so toast seemed like a real luxury with jam and marmalade and hard boiled eggs. Yoghurt comes in cartons here like milk so I drank some of that in a glass too.  We are being looked after by a 16 year old lad, son of the owners, who sets out the breakfast stuff and cleans the rooms.  It was a treat not to have to wash up!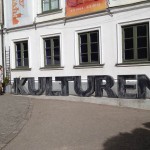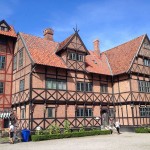 A few minutes' walk from the b&b is Kulturen, Lund's museum.  We've done a lot of museums lately so Derek especially was a bit dubious but it was a really nice surprise and a good day out.  It's mostly open air, a virtual town of about 30 preserved cottages and houses, gardens etc from different Swedish regions over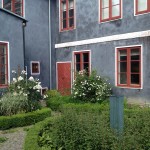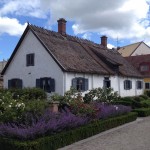 the centuries.  It also had really good indoor exhibitions on all sorts of topics – ancient history and archaeology, Polish persecution during the war, China and textiles – all linked in some way to the university here we think.  The textiles section had a Gudrun Sjoden exhibition and, by coincidence, I had a Gudrun top on – hence the photo!
We had lunch in the restaurant outside which was a rather splendid (and pricey) buffet – one of those multi course lunches that means no supper is required.  We've talked to Danny a lot today about the accident trying to support him in sorting out his mangled bike – all a bit uncertain and stressful at the moment.  Counting our blessings though, he's fine.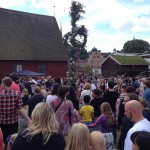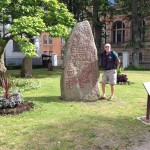 Kulturen was full of families today celebrating mid summer's eve – they decorated a maypole with flowers and did lots of silly dances around it wearing floral headdresses.  There were loads of family picnics and the sun shone!  We were warned it was a bit wild – maybe the boozing starts this evening!