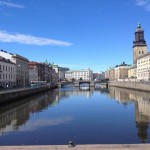 Fortified by the hotel's buffet breakfast (at which I made my own waffle!), we set off on the tram for the 5 minute ride into Gothenburg. Sweden's second largest city and still a big seaport, it has big, wide boulevard type avenues, lots of pedestrianised shopping areas and a very modern, stylish feel to it.  We had a lovely day wandering about in the sunshine and Derek's excellent route planning included a walk down Avenyn, the Poseidon statue (nude man, very controversial), coffee at Lilla Bommen harbour, the market

at Saluhallen, lots of trendy shops, lunch at Espresso House, the cathedral and ice creams in the Tradgardsforeningen park with its rose garden and palm house.  

We were blessed with lovely weather for all this sightseeing and returned to the hotel at about 4.30 very happy tourists.  More pasta for supper, chats to Mum and Danny and a bit of Wimbledon on the telly.
Danny suggested we change the strap line of our blog to "Man wears Leicester Tigers shirt around Europe" He might have a point!!