Quite a change  – we have moved from the countryside to the town and from a big open-plan barn conversion to a compact town house.  It seems quiet and peaceful here though and we wake up to a lovely view  over the rooftops from the bedroom window.  We unpack, meet a few neighbours and stroll down to the town to buy bread and cakes.  It's quite chilly but sunny and bright with a lovely blue sky so we eat lunch on the patio.  Off for a drive to get our bearings and pick up a few groceries at the supermarket.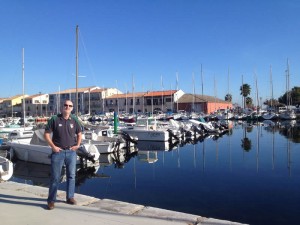 Tuesday also seems to be lovely weather so we head for the coast – just a 20 minute drive to Meze.  Pick up a map from Tourist Info and head for the beach – it is a real wow!  Strolling around in the sunshine in December was lovely  – blue sea, blue sky and lots of seafood restaurants.  Had lunch at Cafe du Port – shrimp salads, moules for Derek and tuna for me – sitting outside gazing at all the expensive yachts in the basin.
The header picture for the blog is a panorama of Meze – we've been trying to get a photo with us both in but it's not easy!