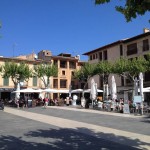 More cycling news – Shipston Cycling arrive tomorrow and long days in the saddle will begin on Friday. With that in mind we decide to do a gentle ride through the quiet roads and head for Pollenca – the old town. It's an easy 4 mile cycle, mostly flat, through fields and well tended villas. After a short detour along the main road we find our way into the town and are not disappointed The centre of Pollenca is a warren of narrow streets, twists and turns and open squares.
Cafés and posh shops everywhere and tourists wandering about or sitting with coffee, beer or wine. We arrive just after 11.00 so find a spot and order dos cafe con leche. After a good spell people watching, we stroll through the streets and join the masses. The big attraction is the steps – hundreds of them – climbing up high to the church at the top.
We take the climb slowly. It's hot but the views are spectacular. Coming down is much easier. All this effort – it must be time for lunch so back to the cafe. A long pizza lunch over, we persuade ourselves to get back on the bikes and head home. Can we found ours amongst all this lot – there are bikes, bikes and more bikes!
Again, an easy ride back but the tyres need some air so I expend a little more energy with the pump. All that effort means we have to settle by the pool for a while to recover!! I think I'd better do a another ride this evening?
P.S. Did 2 big climbs this evening – rode to Formantor. Nice and steady with some great views. After supper we walk into the town and along the beach – it's a long walk so now feel quite virtuous. A lot of exercise again today.