It looks like being a really wet day here though it seems to be the case everywhere.  There's plenty of rugby on the telly for me and Strictly tonight for Barb – in the meantime, Barb is cooking and I'm researching future travel arrangements.
We had a good day yesterday. A bit of work in the morning and then the sun came out so we abandoned the clients and went off on our bikes. Barb seems to be getting on well with her new velo – we were out for about an hour and a half and did 16K.
After lunch it was off to LeClerc in Fontenay to stock up as it is yet another holiday weekend here in France. Everything closed until Tuesday. Do they ever do any work?  The village where we are staying is in the middle of road repairs. They seem to come for a couple of days – do a bit – then disappear. They won't be back now till Tuesday.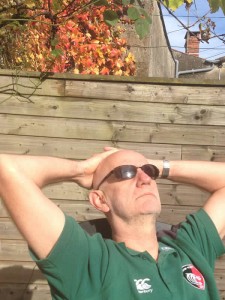 Just plan to chill over the weekend – maybe get to the coast if the sun comes out again. The weather is set to improve next week so I think the clients might get a bit neglected.
Danny went to the Spurs game on Thursday at White Hart Lane and I watched it on the tele here. It seemed a bit weird to think we were in France and he was somewhere in the crowd.
The photos show me working hard (haha) and if you enlarge it and look carefully, you can see a weird seasonal mixture of a rose, grapes and autumn Virginia Creeper growing on the wall behind me.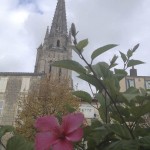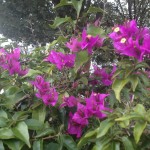 The hibiscus and bougainvillea were in Fontenay La Chapelle – always pleased to see them 'cos they remind us of Bermuda.