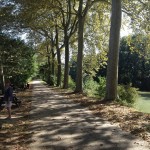 We had an easy drive on Saturday in the sunshine.  We stopped off in the village boulangerie for one last visit to stock up on croissants and bread before setting off southwards on the peage towards Bordeaux and then on towards Toulouse, Carcassonne and Pezenas.
We had two lovely picnic stops on the way, one beside the Canal du Midi.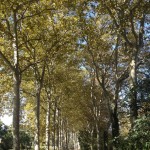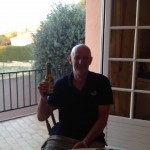 We arrived at the house, Les Trois Oliviers, late afternoon, unloaded the car and in the evening sat munching chilli and watching Strictly.  Sunday was another lovely day – we unpacked, had a stroll around and dangled our feet in the pool.
Countryfile was on the telly and we noticed on their European weather map an ugly purple patch in the south of France – rain forecast for two days!