We drove 450 miles on Wednesday with a few hours' break looking around in Seville before overnighting in Granada.
Our departure from Azambuja was delayed again because the ignition part for the Volvo didn't solve the problem.  It needed a software download to get things sorted so we couldn't set off until Wednesday morning.
We had reached Seville by lunchtime, parked the fully loaded Volvo in a car park at the end of the metro line at Ciudad Expo and headed in.  The city had obviously had a lot of rain but the sun shone for our look around and we really enjoyed it.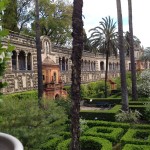 We had a lovely stroll around the Real Alcazares admiring the architecture and gardens, had a look at the river, walked through the Maria Luisa gardens up to the Plaza de Espana and then back on the metro.  We bought the ever familiar ham, Emmental and baguette combo so that we could make sandwiches and then drove on a couple more hours to the Sierra Nevada motel in Granada.  Really tired, we slept like logs.