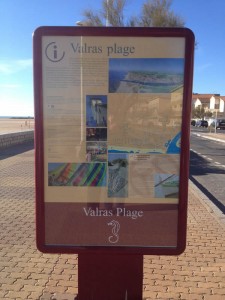 The last time I was in Valras Plage was Easter 2004 on a rugby tour with Stratford Rugby Club. Danny was 13 and decided on that tour he wanted to go to Warwick School.  The rest is history!
Today it was 19º with a clear blue sky.  We walked the length of the beach in both directions marvelling at the sand, the sky and snow capped mountains in the distance – (look carefully at the photos).
Another al fresco lunch back at the car and then a stopover at Carrefours for Gazole and more food.
Back at the house we have afternoon tea and then head out for another walk. Today's weather is just too good to miss so we try a walk directly from the Coteau. A right turn out of the gate and we are in the countryside.  More warm sunshine and we stroll along the track towards the nearby village of Tourbes.
Back at the house we have more tea and sit on the patio until the temperature begins to drop. The nights get very cold, -4°, so a huge contrast.

This is the view from our bedroom window