Thursday – the big ride. Having had a few rehearsals this week we had always planned to tackle the Coll de Rates today. It was warm, sunny and calm – ideal.
We delayed setting off so Danny & Britt could check in online for the flight tomorrow and eventually wobbled down our hill at 10.45. At least it gave me a chance to do some work!
This is a 35 mile ride, longer than anything Britt had ever done. It also included a 10 mile undulating route through the mountain valleys beyond the summit before a very rapid descent to Benigembla and home..
The climb to the top is not steep – just a steady 7k climb on a beautifully smooth road that winds its way up through the trees and then opens up to some fantastic views.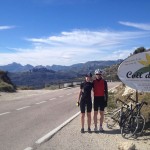 Danny climbed quite quickly while Britt and I took a more sedate pace chatting as we went. We were only overtaken by 2 other riders and after about 25 minutes we reached the top. A great sense of relief and the reward of a truly splendid vista.
We ate and drank and set off through the mountains – again this a beautiful route but really hard after the climb.  It finishes with a long 11% incline which just about takes everything from your legs. The reward however is that from this point it's all downhill – a very fast coast down the mountain and then onto the plain and home.

Danny reckons it's one of the best rides he's ever done and Britt was happy to have accomplished so much in their short stay. The rental bikes were great and we saw some top riders out there today including Michal Kwiatkowski (look him up).Back at Benidoleig we had one last challenge – the big hill back to the villa. Needless to say we were all starving when we got back and delighted to see that Barb had put on a massive spread of food for us all.  After a few minutes of stretching and recovery we ate everything and slowly began to feel human again.